New plans for City Corporation's three historic markets launched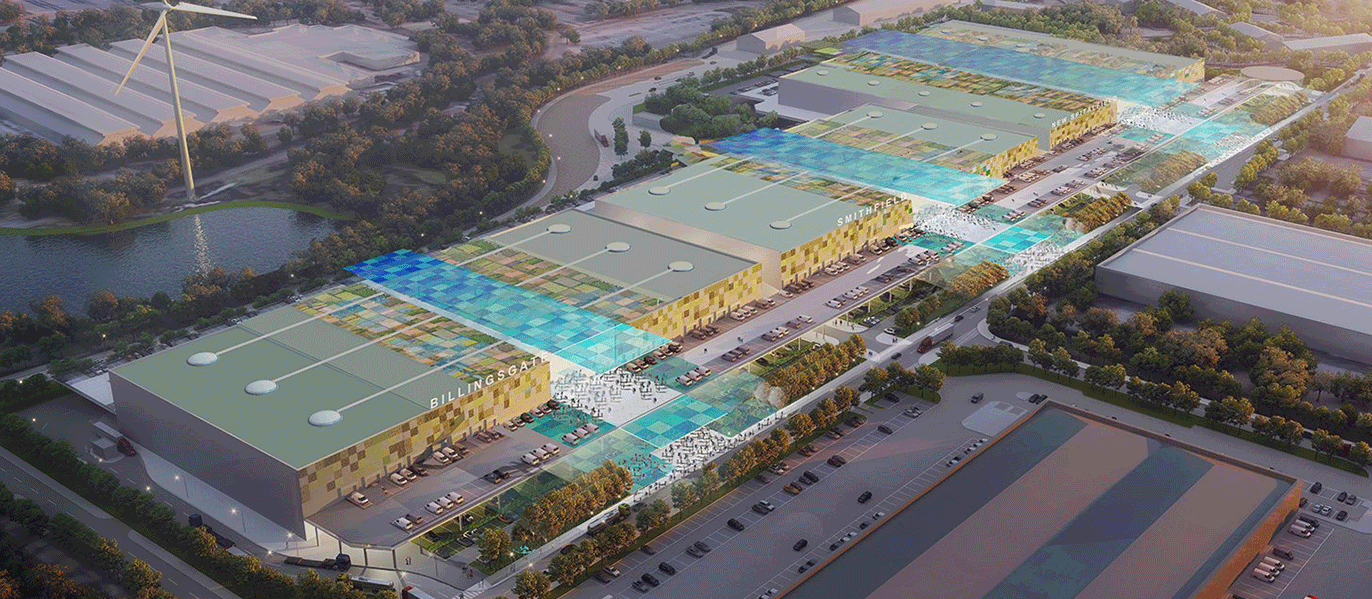 The new outline plans to co-locate Billingsgate, New Spitalfields and Smithfield markets at a new site in Dagenham Dock have been put out to public consultation.
Consultation events are being held during the week commencing 27 January at several locations in Barking and Dagenham ahead of a planning application being submitted in Spring 2020.
The City of London Corporation has today (22 January 2020) launched plans for the new home of Billingsgate, New Spitalfields and Smithfield markets. The three historic markets are set to move to the former Barking Reach Power Station at Dagenham Dock – creating a 21st century, wholesale food location for the borough, London and the UK.
Not only will the move to Dagenham Dock secure the future of the wholesale markets, it will also provide an economic boost to Barking and Dagenham, by reviving an abandoned industrial site, bringing new jobs and businesses to the area.
The plans have been sparked by the City Corporation's commitment to ensure the wholesale markets flourish and grow. Co-locating the three wholesale markets onto this new site will protect the future of the markets, while significantly improving operational, environmental and sustainability standards.
After a wide-ranging search and thorough extensive assessment of several other sites, the former Barking Reach Power Station at Dagenham Dock was identified as the clear preference and most suitable site to co-locate the markets. With 42 acres of industrial land, connections to the rail network and the River Thames, the site has a number of clear advantages.
As well as providing market tenants with new modern facilities across an exemplary sustainable design, the plans will also incorporate an educational offer as well as potentially including a new training school, which will train future market traders and food workers within the borough.
Catherine McGuinness, Policy Chair at the City of London Corporation, said:
"Our number one priority is to provide a top-quality market environment serving London and the South East – not just fit for today's needs but also for tomorrow's. The move to Dagenham Dock will enable our wholesale markets to flourish, providing more modern facilities and space for our tenants to grow so that they can continue to support London's food economy.
"The launch of these new plans shows we are one step closer to realising our ambitions for this site – a vision which will help us create a modern and sustainable co-located food location, serving existing and future generations across London and the UK."
 Darren Rodwell, Leader of Barking & Dagenham Council, said:
"The proposed new home for London's markets promises to bring a huge economic boost to the borough, and our priority will be to make sure that local people have the skills and training to take advantage of the employment opportunities that will arise.
 "So, it's especially important that our residents and local businesses share their knowledge of the area and respond to the consultation to ensure that we can ensure the markets operate smoothly, and flourish and grow in their new location."
Consultation events are being held during the week commencing 27 January to give local residents and businesses an opportunity to see the emerging plans. The dates and locations for the events are:
16:30-19:30 on Wednesday 29 January Thames View Community Hall, 3117 Bastable Avenue, ((corner of Bastable Avenue and Samuel Ferguson Place) Barking, IG11 0LG;
17:30-20:30 on Thursday 30 January at Barking Learning Centre 2 Town Square, Barking IG11 7NB; and
10:00-13:00 on Saturday 1 February at St Peter's RC Parish Hall, 52 Goresbrook Rd, Dagenham RM9 6UR.
The early designs, which will be on display at the public consultation, will form the basis of an outline planning application expected to be submitted to the London Borough of Barking and Dagenham in spring 2020.
Individuals will be able to submit their comments on the outline plans via the website, cityoflondon.gov.uk/dagenhamdock from Wednesday 29 January.